There is no hiding damaged hair. Sure, you can blow it out and it looks smoother for a little while. But blowouts only last so long. Even the best conditioners can magically repair dead-ends, split-ends or overprocessed hair.
At our Montreal salon, we've seen firsthand the damage that can be done to hair, sometimes taking years to grow out and become healthy and whole again. We do our best to use the best products and the best hair tools, but again: damage is damage.
This especially is true when it comes to bleaching. Overbleaching is notoriously damaging to the strands. Why? Because the bleaching process actually strips color from the hair, leaving it vulnerable to damage. Add to it curling irons and older hairdryers and you've got yourself a long-lasting problem.
Who knows better than celebrities, whose poor hair receives much more damage than the rest of us? A-list celebrities praise Olaplex, including Jennifer Lopez, Rosie Huntington-Whiteley and Kim Kardashian credit Olaplex for keeping their hair in tip top shape.
Why do celebrities know best? They often change their hair color much more frequently than us layfolk. They also style their hair more (whereas the average person may style their hair once or twice a week, or only for special events). Celebrities know firsthand that their hair must remain in good condition to withstand these factors. They can't afford that much downtime!
Drew Barrymore chronicles her trials with overbleached hair and credits Olaplex to saving her damaged strands.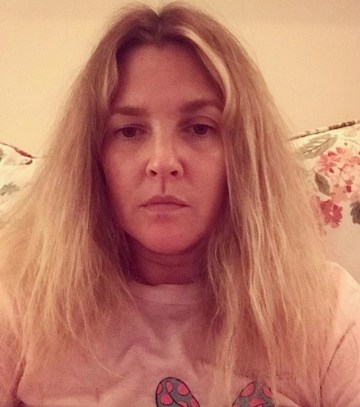 Olaplex remains the go-to treatment process we use to build back damaged and/or overbleached hair. But what is it exactly?
Olaplex is a revolutionary three-tier hair care system that works by repairing broken bonds in the hair. It uses a patented active ingredient that penetrates deep into the hair shaft to rebuild and strengthen damaged strands. This helps to reduce split ends, improve elasticity, and restore your hair's natural shine.
We've used and/or suggested Olaplex for years at our salon. Its done wonders on many a damaged head. But more than repair hair, it repairs people's moods. (Damaged hair brings people down and our goal is to enliven and beautify!)
If you have damaged hair that seems beyond repair, consider the full treatment. No, it's not cheap, but the reparative abilities are real and long-lasting.
Even if you don't have severely damaged hair, Olaplex has several good intensive and repairative shampoos and conditioners and serious masks that keep damage at bay.
If you're looking for a way to repair split ends and restore your hair's natural shine, Olaplex hair care may be your new favorite haircare product. Not sure? Stop by our salon for a consultation. We can test the health of your hair and advise.